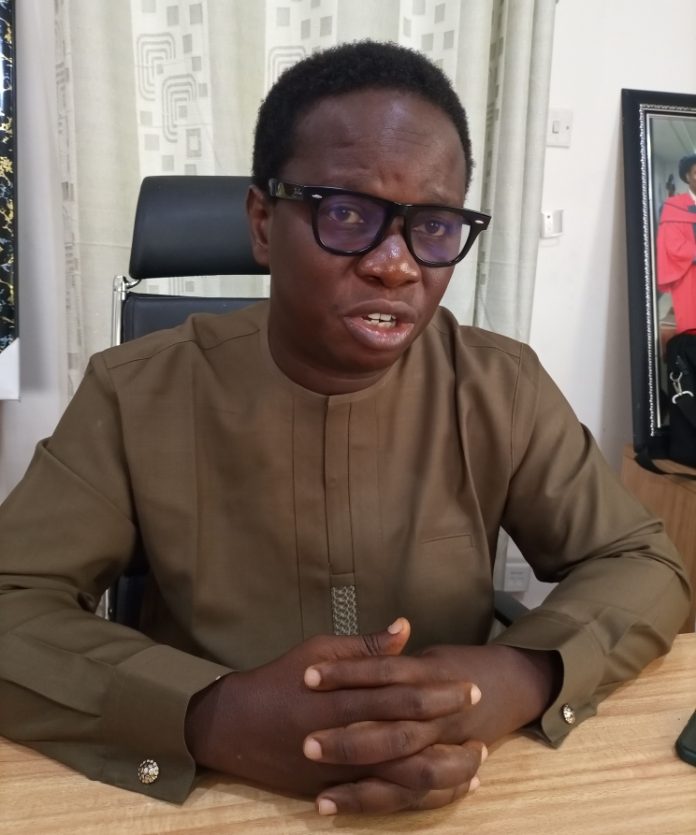 The newly elected Chairman of the Abia state chapter of the Nigerian Environmental Society(NES), Dr Uchenna Rowland Onyeizu revealed that his tenure will work very hard in progressing the mission and vision of the Non Governmental Organization(NGO) towards ensuring Protection, preservation, conservation and the promotion in theory and practice of environmental principles practiced in Abia state and the society at large.
Dr Onyeizu in a chat with newsmen in Umuahia, the Abia state capital on Wednesday spoke on his recent emergence as the newly elected Chairman to pilot the affairs of Abia NES. He expressed optimism in the ensuring prompt contribution to the safety of the environment with the contribution of his executives and conscious application of his professional expertise.
Members of the newly elected executives include, Mrs. Delphine Chioma Nwagboso – Vice Chairman, Olunkwa Ifeanyi Esq – Secretary, Mr. Edward Uchenna Shadrach – Asst Secretary and Dr Nwakanma Chioma – Treasurer.
As a conscious and practical environmental expert, Dr Onyeizu revealed that all through his life he has ensured prompt environmental management within the space he has found himself, thus, he has ensured that environmental management is in forefront in all he does.
Dr Onyeizu also added that as a new set of Abia NES executives, they are looking "forward to bringing new ideas in ensuring that the objectives of the society are adhered to and kept, which revolves around preservation, protection and management of natural & environmental resources."
Dr Onyeizu expressed confidence on his team to carrying out the needed task of creating awareness on what citizens needed to do in conforming to the state's environmental laws, while noting that NES also has affiliation with other international environmental bodies across the globe.
Olunkwa Ifeanyi Esq , the newly elected Secretary of Abia NES on his part while briefing newsmen added that as a lawyer, he will play his role on the passage of bills into law and also pressure for the implementation of the laws to protect the environment.
Citing the waste management in Abia state, Dr Onyeizu emphasized that government should take the lead to safe and clean environment but also task citizens to take huge responsibility in ensuring a clean and safer environment.
" One of the things we will be working on is to see how we can develop some behavior change communication messages for the general population of Abia and Nigeria at large.
" Work towards changing the orientation of many who mismanage the waste they generate to rather 'how best to convert their waste to immediate resources' as done in many parts of the world, including the developing countries. How people can easily Reuse, repackage or ultimately deposed appropriately." Dr Onyeizu said.
Dr Onyeizu also brought to mind the issue of climate change and erosion, which he noted are part of the issues NES works to address. He appealed for positive environmental attitude by citizens in order to maintain a safer, clean and habitable environment.
The Nigerian Environmental Society (NES) is a professional, non-profit, non-governmental body which is committed to advocacy and actions towards environmental protection, sustainable environmental development and promotion of environmental professionalism within Nigeria and in the global arena. It is recognized as the premier environmental society and watchdog of the environment in Nigeria.
Aims and Objectives of the NGO is to ;
To advance practical knowledge in environmental technology design, construction operation maintenance and management control systems for facilities.
To increase the understanding of the nature and function of the earth's natural ecosystem, encourage and promote actions necessary to promote and enhance their conservation.
To implement the objectives stated herein through the support and encouragement of both new and existing organisations throughout the world incorporating members of all professions involved in environmental quality improvements.
To stimulate public awareness of environmental quality controls to the general public and establish the need for preservation, conservation and re-use of natural resources.
Do you have an information or event for candid reporters to publish or cover? Kindly Call us on 09132987510 or send us message on Whatsapp number 07034623382 or send us an email contact@candidreporters.com
Disclaimer:
Candid Reporters publishes news, information, sports, opinions, and Interviews. The site includes both reported and edited content. Unmoderated posts and Comments expressed here do not reflect the opinions of Candid Reporters or any employee thereof..